Nowadays, working as a digital nomad has become an increasing trend. These employees tend to be in different places doing their work telecommuting. It allows people to manage their workplace autonomously, and have some freedom over their time, thanks to the remote work format. However, each country has different procedures and policies regarding how to work remotely in its territory. On this occasion, we are going to focus on being a digital nomad in Saudi Arabia. 
In this article, you will learn everything you need to know about how to be a digital nomad in Saudi Arabia. This trend was already on the rise before the pandemic, among people between the ages of 18 and 28, because in addition to facilitating travel and transportation, it opens the possibility of having more free time to do other activities and generate income. Let us see:
1. What is a digital nomad?
A nomadic worker is part of a new category of work that frames the people who provide their services with territorial adaptability. In other words, they are capable of modifying the space in which they provide services and do not have problems with spatial mobility to provide them. However, they are not always characterized by official recognition of rights and guarantees, especially in terms of social protection.
They are workers who use technology to transcend the need for a permanent physical base and who are perfectly prepared to carry out their professional duties anywhere. In fact, the current economic and social situation has reinforced a series of characteristics or conditions that increase the existence of the nomadic worker:
Adjust costs more and more (efficiency – spend less)
Respond better and faster to any demand (effectiveness)
Reduce production cycles and be more competitive
Increase collaboration with others
Freedom of movement
Continuous learning
If before the start of the labor market was telecommuting, where one works from home, now it is working from anywhere in the world. Technology is a determining parameter in the effectiveness of this profile. Working from 8:00 a.m. to 6:00 p.m. is no longer an option for a group that does not stop competing and fighting to survive.
1.1 Types of Digital Nomads
There are two different types of digital nomad workers. Let us see:
1.2 Teleworker
The teleworker is one who has an employment relationship with the employer, that is, who has signed an employment contract. When employers hire someone remotely, they must comply with the teleworking reform as mentioned a few lines ago.
There are occasions when companies hire someone remotely and onsite at the same time. Therefore, the worker who spends 40% of his working day performing functions outside the company's facilities is considered a teleworker. Otherwise, it does not apply to this term.
In fact, employers have certain responsibilities with teleworkers, such as:
Provide the necessary materials for workers to perform their duties, such as computers or ergonomic chairs.
Take charge of the payment of services such as electricity or the internet.
Provide health insurance.
1.3 Freelance
Freelancers or independent workers are people who work for several companies without having an employment relationship with them. However, they are not covered by insurance nor should they be provided with material to work with.
Before the pandemic, this was the most common type of digital nomad worker, and you could see freelancers in various sectors:
Writing and translation.
Dubbing.
Edition.
Graphic design.
Programming.
After the confinement, the number of freelancers has grown much more. Consequently, at the time it represented a great opportunity to earn money from the safety of home.
2. Requirements to become a digital nomad
The parameters make this group have a series of basic demands. This claim can be divided into two parts. One is connectivity and another is on-demand services:
2.1 Connectivity
Nomads need to be technologically very well equipped to be able to respond to the needs and demands of their customers. Hence, they always carry computers and/or equipment that allow continuous connectivity. They usually have tools and data in the cloud. The effectiveness increases, not only because of the accessibility to tools and data but also because of an adequate electricity supply.
Important in this section is the cost of connectivity, especially if we are outside our country. As a result, not being able to connect and navigate abroad at an affordable price can be deadly for a nomad.
2.2 Equipment and services
All nomads are usually equipped with laptops, preferably light in weight. Additionally, they all have smartphones, which are also usually the access point for the internet. They have programs such as spreadsheets, text editors and presentations, and viewers for all types of files. In addition, these services are grouped into:
Cloud storage;
Jobs on demand;
Meeting rooms on demand;
Specialized support advice (accounting, tax, social networks, etc.)
Most professionals also have additional batteries, backup chargers, external hard drives, etc.
2.3 External hard drive and storage
It is always useful to extend storage capacity and, more importantly, to have a backup of the most important files. In addition, the storage in the cloud helps to have access to their work from anywhere.
2.4 Online platforms  
Having some work management software will allow you to be better organized wherever you go. For instance, there are platforms that help organize teamwork through digital boards. On the other hand, other programs keep in touch with customers in a more comfortable and professional way.
3. What is the projection of digital nomads?
As we mentioned before they are people who need to be on the move, and constantly changing, who feel driven and motivated by the idea of ​​constantly making decisions. As a result, solely on themselves to reach a level of productivity that allows them to sustain their lifestyle.
In terms of work, some of the professions with the greatest tendencies to develop in a nomadic way are those related to technology. For instance, those who are dedicated to marketing, web design, content creation, etc.
Currently, many companies are still reluctant to accept the possibility of a good part of their employees working remotely. However, it is very difficult to adapt business schemes to the new realities of a world that is increasingly more connected.
On the other hand, it is undeniable that this is the future and that it will be a positive change for companies, which will have more motivated, creative professionals. Additionally, companies will value employees based on results.
3.1 How to do it
The main thing is to have the desire, wanting to live independently, have your own projects, and your own schedule. If that is the case, then, it is a good idea to become a digital nomad and embark on this adventure.
Having some saved money would help to determine if this lifestyle can work for you. Then, you can start looking for your way in this market. There are many digital platforms designed for freelancers who want to provide their services anywhere in the world. Remember, the world is very big and full of opportunities.
4. How can you become a digital nomad in Saudi Arabia?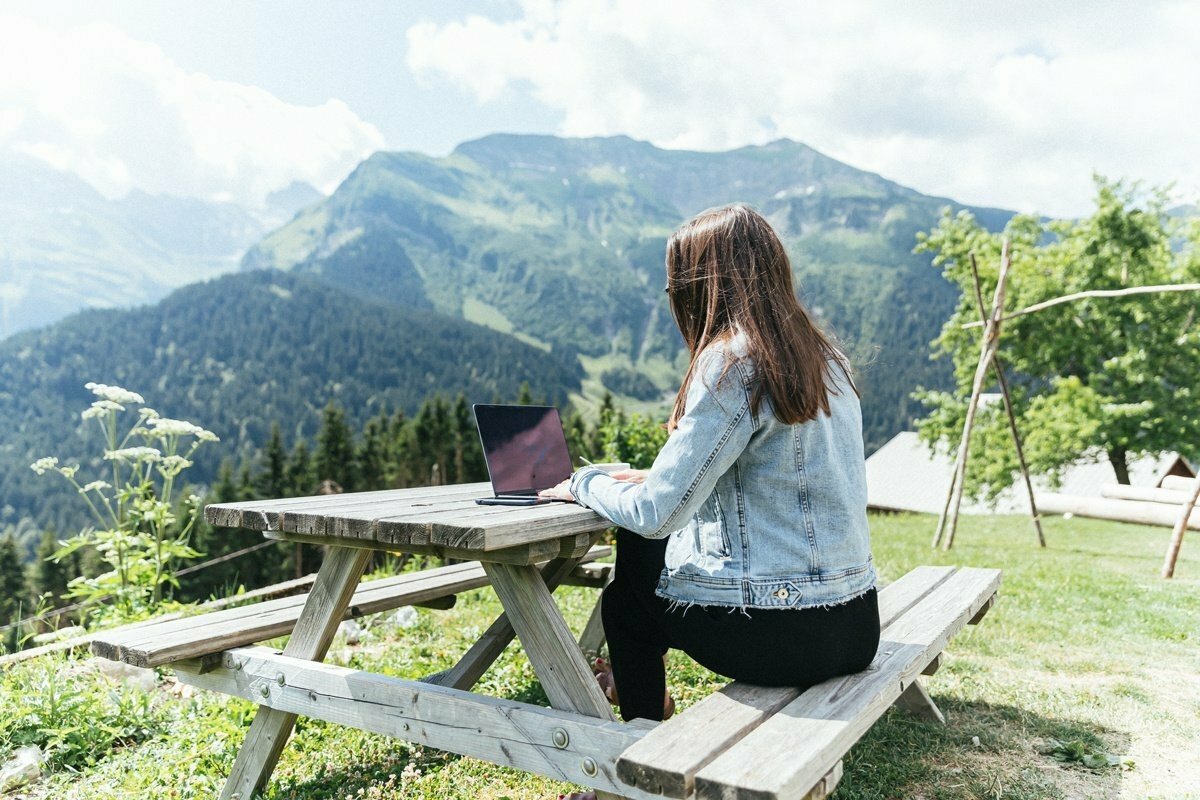 You have already seen what it takes to become a digital nomad but now let us see what are the steps you must take to do it in Saudi Arabia:
Firstly, foreign citizens who want to move there and work for a limited period of time can do that based on other types of visas. In fact, Saudi Arabia introduced the electronic visa system, easing the process of entering the country. As a result, the country wants to become one of the most appealing tourist destinations in the Middle East by 2030.
Digital nomads in Saudi Arabia can use tourist visas, and work from Saudi Arabia. Next, we will see the options in terms of remote work in the country. Additionally, you can rely on us for Saudi company formation services.
4.1 Foreign remote workers in Saudi Arabia
Some people have the opportunity to choose where they want to work. Hence, they have the possibility to choose foreign countries closer or farther from home, depending on their preferences. Consequently, many countries from different continents have enabled digital nomad visas for remote workers. Nevertheless, that is not the case in Saudi Arabia.
To become a digital nomad in Saudi Arabia, you have the option of applying for a tourist visa that will enable you to enter and stay here for 90 days. Indeed, the validity of this type of visa is one year. Therefore, you can benefit from multiple entries, as long as each of them does not exceed 3 months.
However, do not get flustered, even though it is not a Saudi digital nomad visa, it resembles one from the following points of view:
As long as your activities do not relate to a Saudi employer/client, you can perform your work or other activities from this country.
You are free to live in Saudi Arabia and travel from one side of the country to another. In addition, you will enjoy the great living style of this state.
As an entrepreneur, you can carry out your business activities in another country.
There are not many formalities to obtain a visa. Nevertheless, keep in mind that you need health insurance for the duration of your stay.
It is crucial that your travel document has a minimum validity of at least 6 months when arriving in Saudi Arabia.
4.2 Proof of income
Additionally, the tourist visa does not require submitting your proof of income as the digital nomad visa. However, it is necessary to have a bank statement to indicate you can support your stay in the country.
In case you want to start your journey as an entrepreneur, our consultant can guide you to open a company in Saudi Arabia.
5. What are the greatest cities to be a digital nomad in Saudi Arabia?
Now, we will see some of the best cities sought by many foreign remote workers. Let us see:
Medina: Many digital nomads choose Medina for its low living costs.
Riyadh: Offersgood costs of living and numerous co-working spaces available
Dammam and Mecca: These two cities are preferred by digital for their low living costs as well
Below, you will see some useful information about working as a digital nomad in one of these cities:
Saudi Arabia has a minimum wage of 3,000 SAR ($800) for public employees. Meanwhile, according to the Ministry of Labor, there is no minim salary for those who work in the private sector.
Foreigners can have high salaries. Indeed, the average can exceed SAR 8,500 per month in the IT sector.
Tourism is another well-paid job in Saudi Arabia with a salary of more than SAR 10,000 per month.
6. How can Company Formation Saudi help you get more information about being a digital nomad in Saudi Arabia?
On Company Formation Saudi, we help you achieve all your goals and dreams to thrive in the Arabia Saudi market. Among our services, we have:
Would you like to contact Company Formation Saudi to obtain more information about digital nomads in Saudi Arabia? You can call us at our phone number if you need help +971 43 316 688 If you would rather use e-mail, you can contact us at contact@companyformationsaudi.com.