The government of Saudi Arabia implemented a new reform in September 2019; to achieve the goal of the Saudi vision of 2030. This consists of the e-visa Saudi Arabia or electronic visa program. This program was created to promote tourism in the nation; welcoming tourists from all over the world to experience the wonders of KSA.
In this article, you will see all the information you need about e-visa in Saudi Arabia. The first thing will be to give a brief description of what the Saudi Arabia electronic visa service is. Finally, we will give you a step-by-step tutorial on how you can obtain a short-stay permit.
What is the electronic visa service in Saudi Arabia?
Learn the process to obtain the e-visa to Saudi Arabia without difficulty
1. What is the electronic visa service in Saudi Arabia?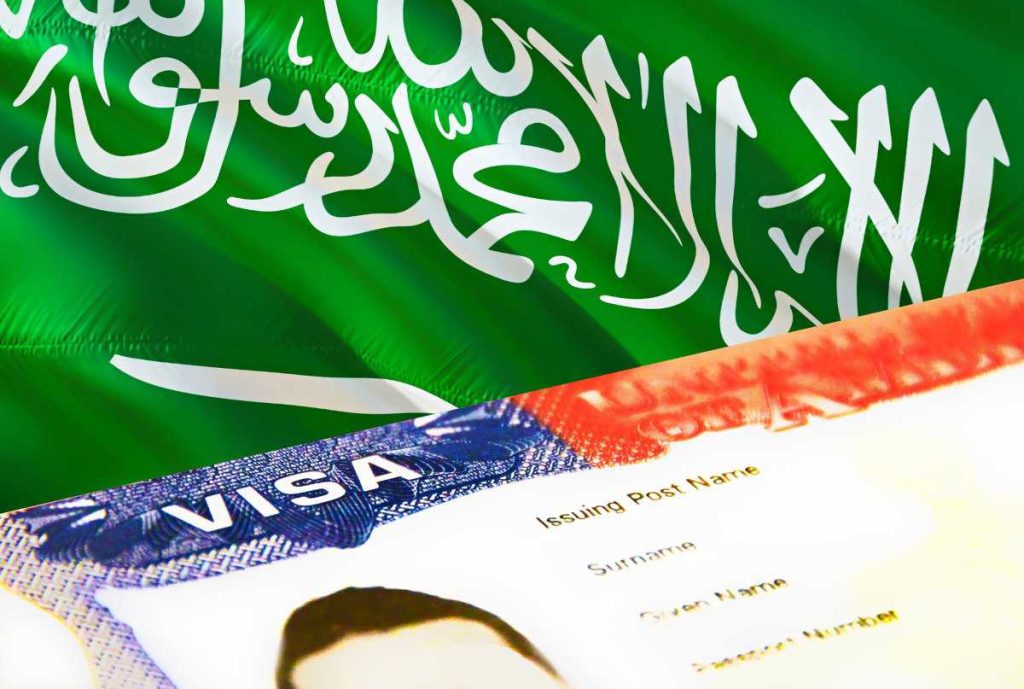 In Saudi Arabia, the e-Visa is a new reform that was implemented by the Saudi government in September 2019. This visa was implemented to support the Saudi 2030 vision. In addition, this e-Visa will be available to GCC residents and citizens of 49 countries through e-Visa services.
Among the 49 countries that can easily apply for this visa, you can find France, Switzerland, Japan, and Australia among others. The Saudi e-visa can be obtained without the need to go through a long and tedious process. The person who requests it will only have to have a scanned copy of their passport and a recent photo that has been taken on a completely white background.
Currently, all people who wish to visit Saudi Arabia do not need to take a COVID-19 test before traveling. In addition, they will not have to carry out a mandatory quarantine upon arrival in Saudi Arabia.
1.1 GCC residents who are eligible for the Saudi Arabia e-Visa
All those citizens who are natives or expatriates who live and have specific occupations in any of the other 5 GCC countries. These countries are the United Arab Emirates, Qatar, Kuwait, Oman, and Bahrain. All people who comply with the above will be able to easily obtain their Saudi e-visa.
To obtain it, they will only have to send a copy of their GCC resident visa permit. Also, a passport scan and a photo of yourself that was taken with a completely white background. It is important that if you want to start an e-business in KSA, you have this document available and that you follow the steps.
1.2 How long will the e-Visa Saudi Arabia be valid?
This electronic visa will be valid for a period of 1 year from the date you enter the country. This visa allows the holder to make multiple entries into the country. However, this can only be done as long as the total duration of your stay does not exceed 90 days.
2. Learn the process to obtain the Saudi Arabia e-visa without difficulty
Opening an online business attracts many advantages, including that you do not need a sponsor. But, to have access to this opportunity, you need the Saudi Arabia e-visa. To acquire it you must follow the following steps. In addition, you will see some important things that you have to know about this procedure.
2.1 Step 1
As the e-visa in Saudi Arabia is an electronic visa, all documents can be delivered in digital format. Therefore, the papers requested below must be scanned to send them. Also, you should know if you want to be a digital nomad in KSA, you also need an e-visa in Saudi Arabia.
A passport-size photo on a white background.
Photocopy of the GCC resident visa permit.
Scanned photocopy of the passport.
2.2 Step 2
The process to have the e-visa in Saudi Arabia is done completely online, which makes it very simple. It takes about 2 or 3 business days to send you the document. Once you submit all the necessary documentation, you must specify if you want to perform Umrah.
2.3 Step 3
The next thing is that you fill in all the details of the trip. The first thing is that they will ask you which airport you want to land at; in the list of options you can select the one of your preference. In addition, you must select the date you want to arrive in Saudi Arabia.
Pay the e-visa Saudi Arabia cost
Subsequently, the option to pay the Saudi e-visa fee will appear on the screen. Once this is complete you can continue with the visa process. In addition, it is important that you have access to health insurance since it is a mandatory requirement.
The e-visa Saudi Arabia price is around 690 AED. Something very important to highlight is that this can vary, considering the health insurance you hire. Another factor is if you want to hire a company to support you in the process; this may cause a price increase.
2.5 Step 5
Once all the documents are complete and you have completed all the steps mentioned above, you will have completed the process and all you have to do is wait for the visa approval. Later, you see the notification of the conformity of the e-visa you can buy the tickets to travel. It is important that when you have made the purchase, you confirm your health insurance.
If you want to know more information about other issues related to opening businesses both online and in person in Saudi Arabia; we invite you to read our blog. There, we share relevant information on relevant industry issues. In addition, you can review the services we offer.

It may be the case that you are one of those individuals looking for job opportunities abroad. If thus, we recommend thetalentpoint.com, here you will undoubtedly find a variety of job offers that may attract your attention. If you wish, you can contact The Talent Point via email at contact@thetalentpoint.com, by this means you can obtain more information.